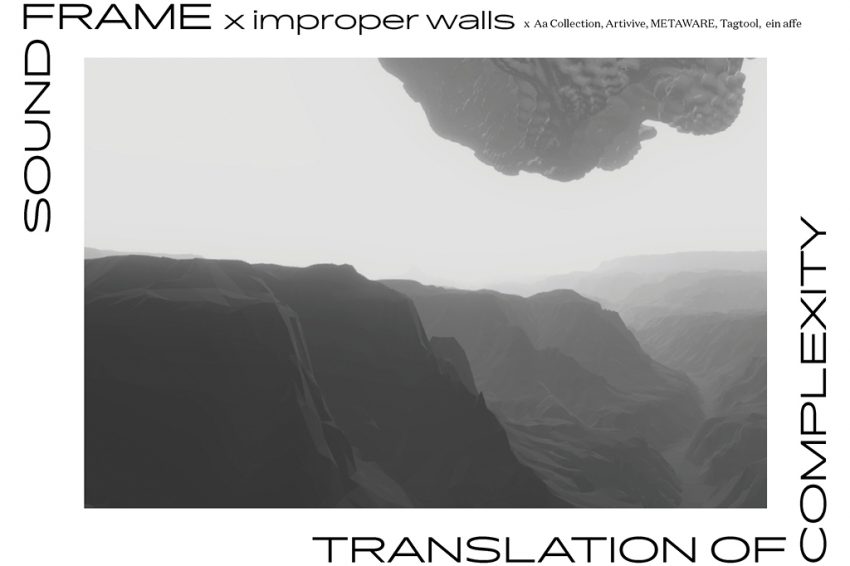 Exhibition Opening: Thursday, January 10, 6pm
Exhibition Hours: Friday – Saturday, January 11-12, 4-9pm
Closing Performance by Hidéo SNES Saturday, January 12, 7pm
Address: Reindorfgasse 9/2/R01, 1150 Vienna
At Aa Collection artist Morehshin Allahyari and Anna Ridler approach complex narratives from two different angles. While Morehshin rewrites and reimagines the stories of dark goddesses from the middle east, Anna brings back the forgotten past of an economic collapse through comparing the 17th century tulip-mania with cryptocurrency today.
In the exhibition ground floor we enter the stories of Huma and the Laughing Snake, two middle eastern female jinns of Morehshin's series SHE WHO SEES THE UNKNOWN. Huma, the jinn who brings fever to humankind, will slowly reveal her monstress and powerful appearance in the video projected, while Morehshin's poetic voice over tells us how the fever today expands and heats up the earth. Global warming and the western dominated dialogue around climate change is the topic she addresses. Watch and listen. Click and read is the instruction for Laughing Snake, a interactive online piece commissioned by the Whitney Museum of American Art, Liverpool Biennial and Fact Liverpool. The changing and possibly repeating narratives give a very personal glimpse of Morehshin's perception and interpretation of female bodies, hysteria and delirium in the middle east. More layers and aspects can be discovered in her ongoing research library titled Maktbabkhaneh (The Reading Room), a persian word for primary school. Take your time to explore the images and readings and find out more about SHE WHO SEES THE UNKNOWN.
The staircase in the back of the space will guide you to Anna Ridler's work Mosaic-virus. It refers to the 17th century dutch tulip mania which is known as one of the first speculative economic bubbles. Tulips were status symbols and became luxury goods at the time. Their prices started to deviated drastically from their intrinsic values until the market collapsed. In her video Anna's tulips bloom depending on the current bitcoin price. If the flowers are wide open bitcoin is skyrocketing, if they're closed the price is down. Bitcoin, as a hyped and also unstable digital currency, climbs and falls on the market very fast and with huge deviations. Anna trained an AI with her own data set of thousand tulip photographs in order to create different versions of the data visualizations. It is possible to see how fast the price changes within a second, minute and hour as well as the fluctuation in the market. A beautiful detail of this story and Anna's piece is, that the tulips with a rare striped pattern were the most precious ones — and the reason for this pattern was, a virus which is transmitted by bugs. This was the Mosaic-virus. Again many more layers of Anna's work can be explored through reading the articles and watch her talk at IMPAKT Festival in the second room.
Morehshin's and Anna's artistic positions are strong examples for how art can disentangle complexity. Complexity won't go away of course, but their work allows us to understand bits and pieces. It allows us to step outside and think of other perspectives through historical references and unknown mythology. New input and context gives room for new solutions and possibilities.
Text by Laura Welzenbach
Morehshin Allahyari
Morehshin is an artist, activist, educator, and occasional curator. She was born and raised in Iran and moved to the United States in 2007. Her work deals with the political, social, and cultural contradictions we face every day. She thinks about technology as a philosophical toolset to reflect on objects and as a poetic means to document our personal and collective lives struggles in the 21st century. Morehshin is the co-author of The 3D Additivist Cookbook in collaboration with writer/artist Daniel Rourke– (published on December 2016 online in 3D PDF format and in print by the Institute of Networked Cultures). Her modeled, 3D-printed sculptural reconstructions of ancient artifacts destroyed by ISIS, titled Material Speculation: ISIS, have received widespread curatorial and press attention and have been exhibited worldwide. She is the recipient of the leading global thinkers of 2016 award by Foreign Policy magazine and she was recently awarded two major commissions by Rhizome  as well as the Whitney museum of Art, Liverpool Biennale, and FACT to work on developing archival and web-based aspects of this project, which will also be in the show.
She Who Sees the Unknown (2017 – present)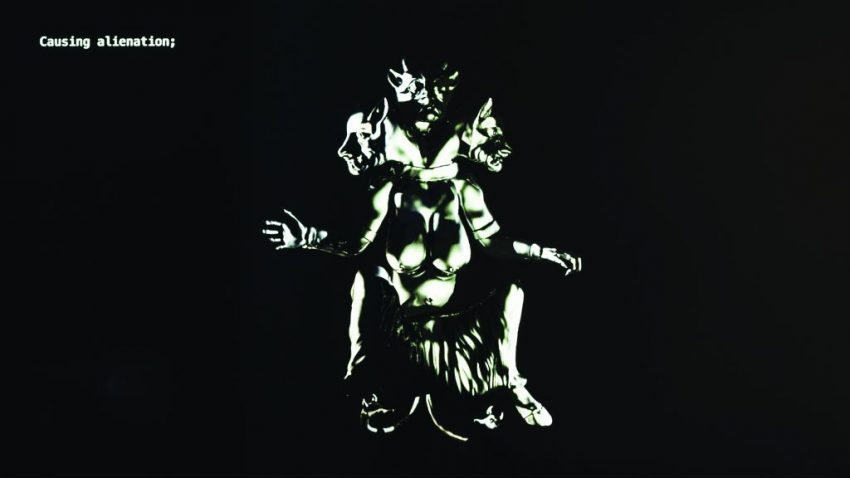 Allahyari is currently developing a new body of work on Digital Colonialism and 're-Figuring' as a Feminism and de-colonialism practice, using 3D scanners and 3D printers as her tools of investigation. Researching dark goddesses, monstrous, and djinn female figures of Middle-Eastern origin, Allahyari devises a narrative through practices of magic and poetic-speculative storytelling, re-appropriation of traditional mythologies, collaging, meshing, scanning, and archiving.
1- Archiving: researching and gathering an image and text archive of dark goddesses and female jinn and monstrous figure of the Middle-East origin, mostly from ancient mythical stories and resources (an archive that does not exist in any form). This archive will take the format of both a physical reading room, a book (in collaboration with an Archaeologist friend and Imam in Iran), as well as an online web based archive that will be available for free online.
2- Production: creating a selection of 12 of these figures by re-appropriating and 3D modeling them from different ancient illustrations. Then 3D scanning the 3D printed models as a series of ritual ceremonial performances as well as video material for storytelling. I imagine the 3D printed sculptures to become an army of dark figures existing alongside a series of re-appropriated and mashed up talismans that I will source out from different Farsi and Arabic fawātih (فواتح) or "openers", and other occult divinations.
3- Storytelling: writing a separate narrative about each figure in form of video essay/fiction that uses the initial superpower/abilities of the specific jinn, goddess, monstrous figure but connects it to some form of contemporary oppression and colonialism.
Huma
Huma is a jinn known in various Middle-Eastern tales and myths who"brings heat to the human body and is responsible for the common fever." The text for this video sits between fact and fiction as a way to re-appropriate her power: bringing heat to the contemporary horror of our time; I relate the jinn's warming powers to global warming and sees her as a poetic representation of those excluded from the Western-dominated conversations of climate change.
Digital Video, 6 minutes 5 seconds, edition of 5 plus 2 artist's proofs.
Courtesy the artist and Upfor Gallery.
The laughing Snake
The various myths told about the Laughing Snake, reveal the story of a monstrous figure (some believe an al-Jinn), who has taken over a city and its lands, murdering its people and animals. Over the years there are many attempts at destroying this jinn, but yield no success. One day, hope is sparked when an old man living in a cave comes forth with a revelation: the only way to kill the snake is to hold a mirror in front of her. When people do so, and the snake sees her own image in the mirror, she starts laughing. She laughs for days and nights until she self-destroys and dies. Through the re-telling of this story, somewhere between fact and fiction, I use the concept of the Laughing Snake and the mirror as symbols to reflect on a series of personal and imagined stories in relationship to hysteria, delirium, and female body in the Middle-east.
The interactive online piece commissioned by Whitney Museum of American Art, Liverpool Biennial and Fact Liverpool.
Maktbabkhaneh (Reading Room) is a growing library of an in progress research by Morehshin Allahyari as part of She Who Sees The Unknown project.
Anna Ridler
Anna is an artist and researcher who lives and works in London. She has degrees from the Royal College of Art, Oxford University, University of Arts London and have shown at a variety of cultural institutions and galleries including Ars Electronica, Sheffield Documentary Festival, Leverhulme Centre for Future Intelligence, Tate Modern and the V&A. She is a recipient of this year's European Media Art Program and the winner of the 2018-2019 Dare Art Prize. She has been commissioned by Opera North, Live Cinema UK and Impakt Festival to create works. She is interested in working with collections of information or data, particularly self-generated data sets, to create new and unusual narratives in a variety of mediums, and how new technologies, such as machine learning, can be used to translate them to an audience. She is currently working with and researching the creative potential of machine learning, and how it relates to drawing and painting.
Mosaic-virus (2018 – work in progress)
Drawing historical parallels from "tulip-mania" that swept across Netherlands/Europe in the 1630s to the speculation currently ongoing around crypto-currencies, this video work is generated by an artificial intelligence (AI). It  shows tulips blooming, an updated version of a Dutch still life for the 21st century. The appearance of the tulip is controlled by bitcoin price. "Mosaic" is the name of the virus that causes the stripes in a petal which increased their desirability and helped cause the speculative prices during the time. In this piece, the stripes depend on the value of bitcoin, changing over time to show how the market fluctuates.
Hidéo SNES
Hidéo SNES is an artist living and working in Vienna and Helsinki. He focuses on digital art, interactive installation, and performance. In his works, he deals with the occurrence of Otherness in digital and virtual media. SNES' projects have been exhibited u.a. at Mumok and Kiasma.
hideosnes.online
On the closing night Hidéo SNES will perform Alien Drag
"When I'm binary I'm talking to computers"
Interactive Installation, Performance, Computer game, 2019
In collaboration with Chinami Sato (JP), Einar Sørensen (NO) and Lieb & Kühn (DE).
Possible agencies of otherness throughout real reality and it's digital and virtual instances suggest that their identity is not the product but the condition of their distinction. Just as 'water' can only be differentiated from 'ice' by its condition of aggregation. "When I'm binary I'm talking to computers" traces and plots the interrelated yet illusive expulsions between prospects of complexity and singularity throughout various instances of reality. Recipients may expect butt jokes.
Curated by Laura Welzenbach & Georgji Melnikov
About Aa Collections: Aa Collection Gallery started as a collection of fine art from the 19/20 Century, since 2012 the gallery focuses on contemporary art of the 21 century and presents different projects on a regular basis in their showroom in Vienna at Burggasse 68. The artist Rina Grinn is leading the gallery since 2010 and supporting Viennese and international emerging art scene. Since 2012 the artist Georgij Melnikov joined as assisting curator. Together they organized about 100 Projects until know and more are about to come.
This event is part of the group exhibition "Translation of Complexity". Find more info and all related events here.