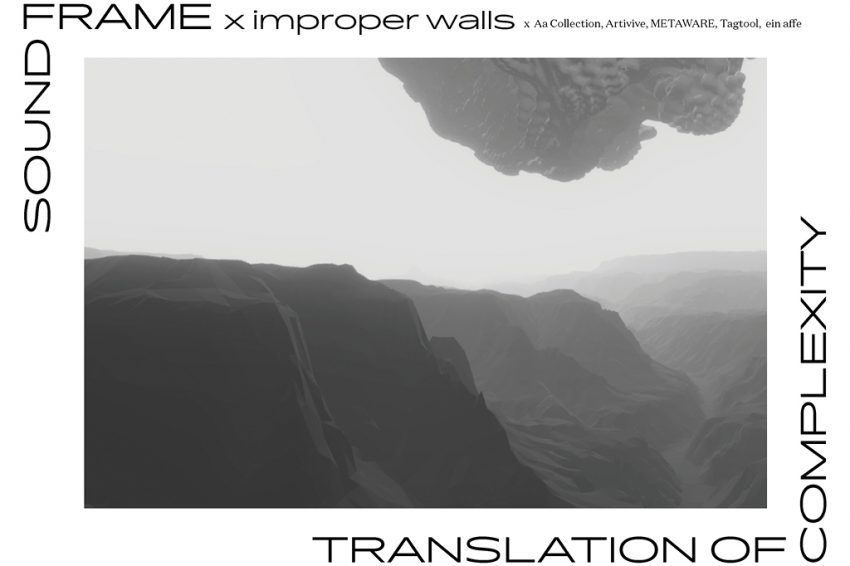 A group exhibition at Improper Walls, Aa Collections, Artivive, METAWARE, OMAi Tagtool + ein affe
Exhibition Opening:
Thursday, 10.1.2019 at 6pm, with Open Studio at OMAi Tagtool + Afterparty at rhiz
Exhibition Hours:
Friday – Saturday, 11-12.1.2019 from 4-9pm
Artists:
Morehshin Allahyari, Anna Ridler, Cat Jimenez, Benjamin Weber, Arno Deutschbauer, Herwig Scherabon, Lukas Fliszar (101), Michael Ari (101), nita., MNCLR, Litto, OMAi Tagtool, Dalia, Joja, Hidéo SNES.
To kick off a new year of audio visual art, sound:frame visits the Reindorfgasse with a collaborative exhibition from January 10 to 12. With "Translation of Complexity" the exhibition addresses intertwined topics and complex narratives through art. Together with improper walls, sound:frame invited a bunch of artists who break down the seemingly ungraspable framework of artificial intelligence, permutation of the internet and the role of myth and traditions in today's society.
Seven different venues are part of this weekend long group exhibition. With SHE WHO SEES THE UNKNOWN Morehshin Allahyari shows her work on digital colonialism and re-figuring as a feminist and activist practice at Aa Collections. Anna Ridler visualizes the fragility of a currency through showing the parallels between the 17th century tulip-mania and cryptocurrency today. Artivive's featured artist Litto presents her understanding of disruption and error messages. At Improper Walls Cat Jimenez and Benjamin Weber explore the internet through a three dimensional digital sculpture, embodiment and performance. Visitors are able to step into the VR experience Afterlife, a collaborative project between Arno Deutschbauer, Herwig Scherabon, Lukas Fliszar (101), Michael Ari (101). In the basement of metaware vault MNCLR literally looks at hidden processes of memory and imagination. Last but not least at ein affe, Nita explores the liaison between the spectator and the artists through audio visual poetry.
For the opening evening on Thursday, January 10 OMAi open their artist studio to show new tagtool features. Let's continue our conversation at the Rhiz after party starting at 10pm where Dalia and Joja with visuals by nita. will make our heads nod and booties bounce. We will close this audio visual intermezzo on Saturday January 12 with the Alien Drag performance by Hidéo SNES.
Opening Day
Thu, 10/01/2019 Exhibition Opening Tour (find the route online here)
18:00    All Venues Open
18:30    Welcome at Aa Collections (Reindorfgasse 9/2/R01)
19:00    Artist Q&A at Tagtool (Reindorfgasse 28)
19:30    Artist Q&A at Artivive (Reindorfgasse 38)
20:00    Break
20:30    Performance at Improper Walls (Reindorfgasse 42)
21:00     Introduction at MetaWare (Reindorfgasse 39)
21:30     Artist Q&A at ein affe (Schwendergasse 19)
Party at rhiz (U-Bahnbogen 37)
22:00       Dalia DJ Set with visuals by nita.
00:30       Joja DJ Set with visuals by nita.
More Events
Fri-Sat, 11-12/01/2019
All exhibition venues open from 4-9pm
Sat, 12/01/2019 Closing Performance
19:00      Performance at Aa Collection (Reindorfgasse 9/2/R01)
21:00      Closing Gathering at Mutzenbacher (Ullmannstraße 51)
More Info
Translation of Complexity @ Aa Collections
Translation of Complexity @ Artivive
Translation of Complexity @ ein affe
Translation of Complexity @ Improper Walls
Translation of Complexity @ METAWARE
Translation of Complexity @ OMAi Tagtool
Crew
sound:frame    
Eva Fischer                     co-curation and sound:frame founder
Laura Welzenbach       co-curation, production and project manager
Samira Saad                   sound:frame communication manager
Improper Walls
Urtė Špeirokaitė                     co-curation and Improper Walls founder
Justina Špeirokaitė                co-curation and Improper Walls founder
Alejandra Zapata Torres       co-curation and Improper Walls team member
Elizabeth Spouse                    co-curation and Improper Walls team member
Aa Collections
Georgij Melnikov        curator and manager at Aa Collections
Rina Grinn                   Aa Collections founder
Artivive
Sergiu Ardelean            artivive founder
Carina Doppler            pm, communication and curation at Artivive
Metaware Vault
Katja Krüger            mastermind and store owner
Richard Pyrker        underground gallery manager
Thanks to our supporters and partners