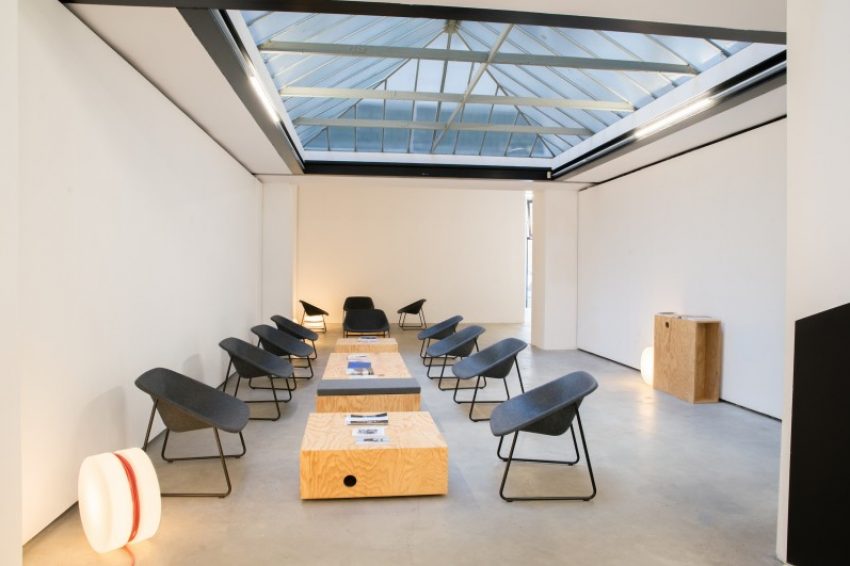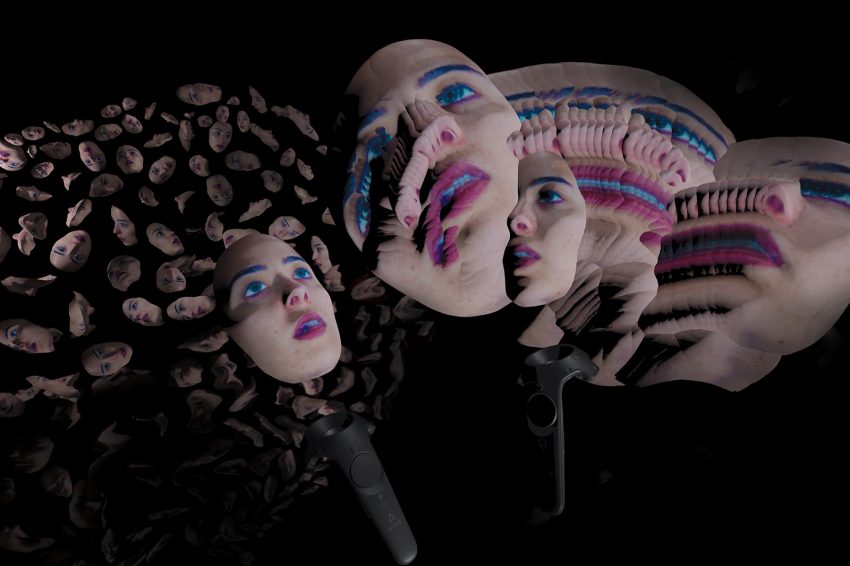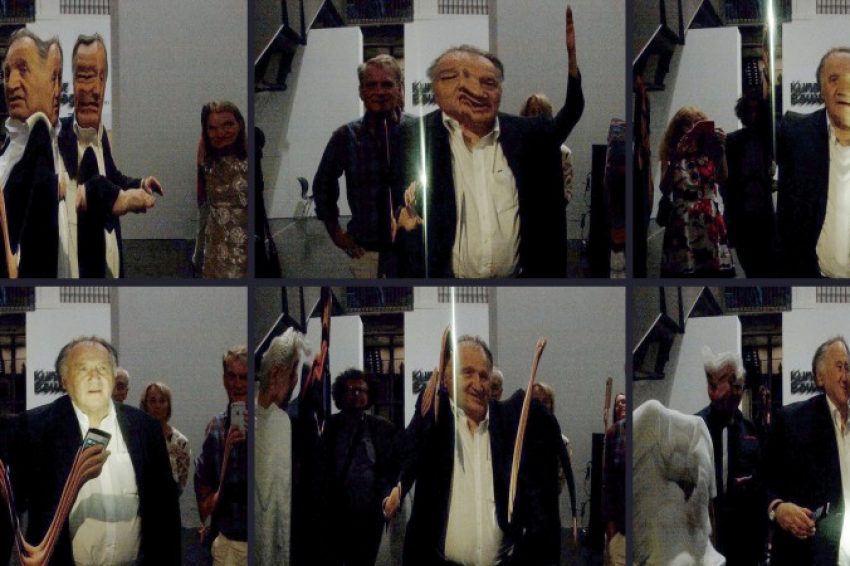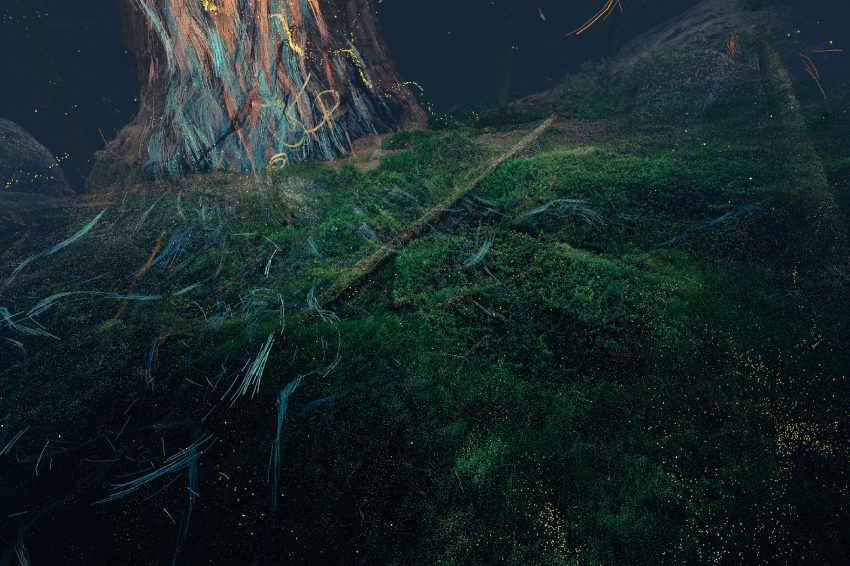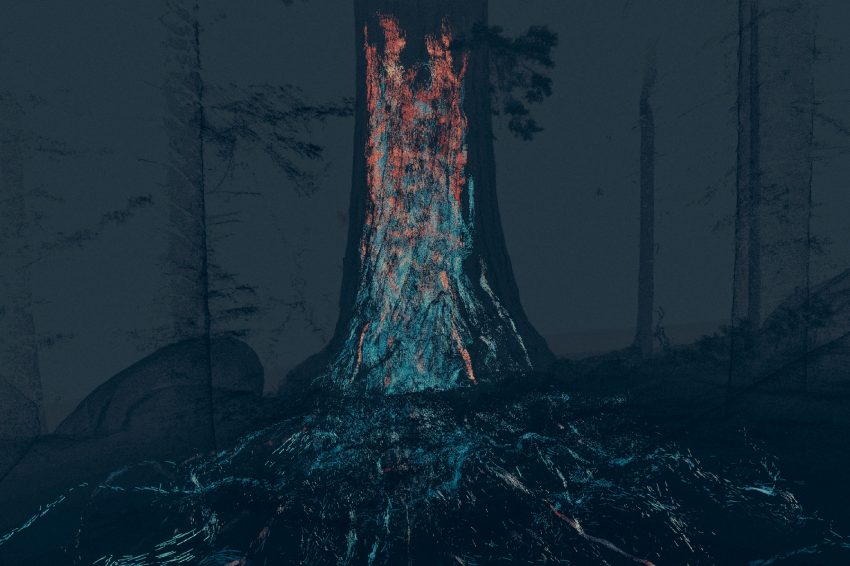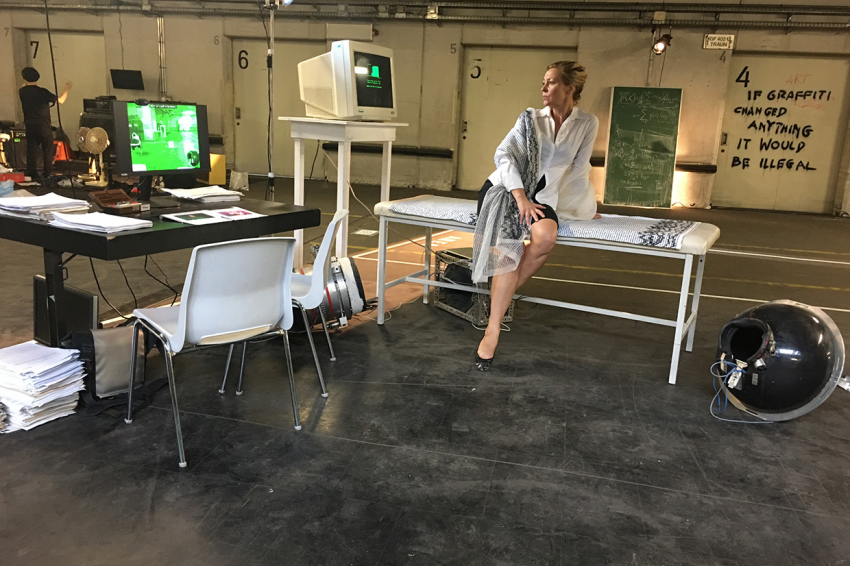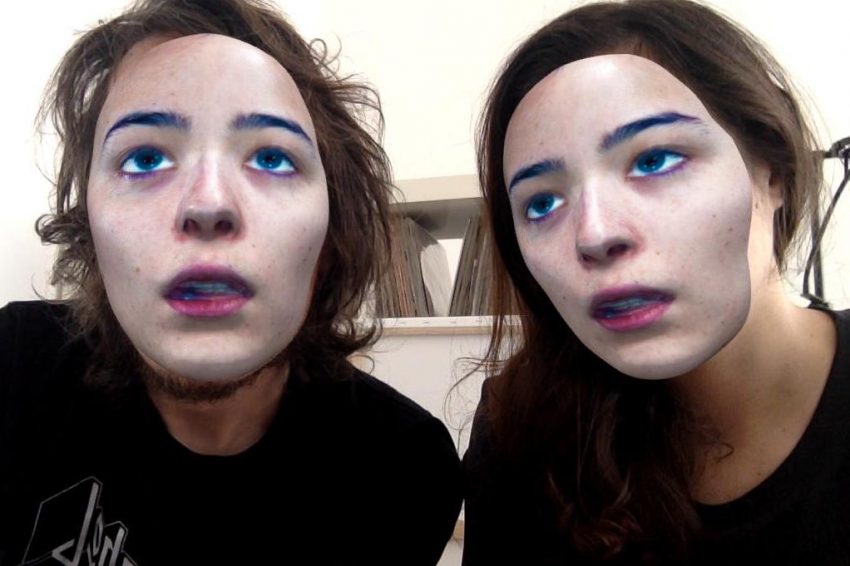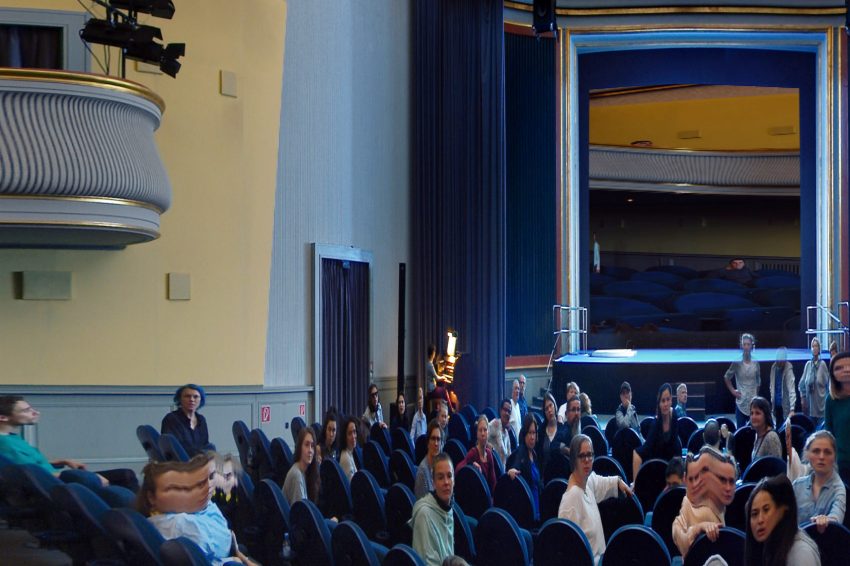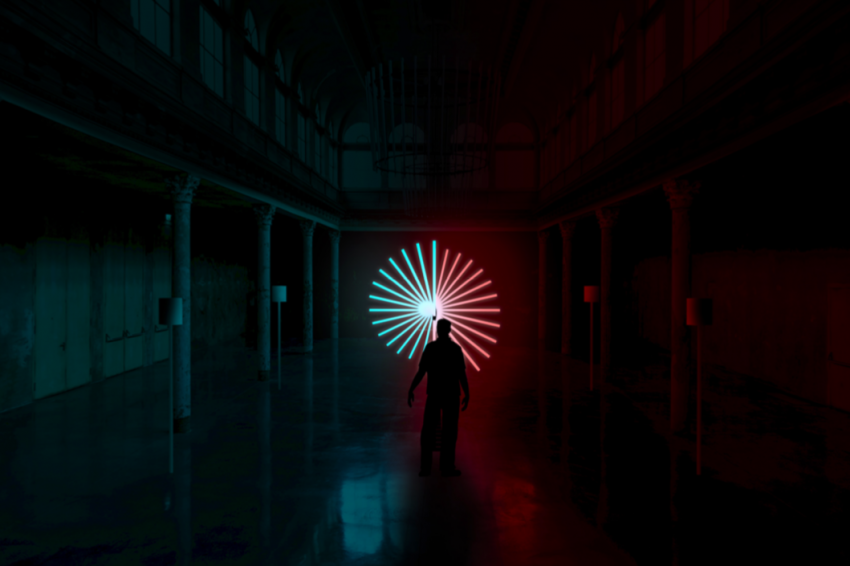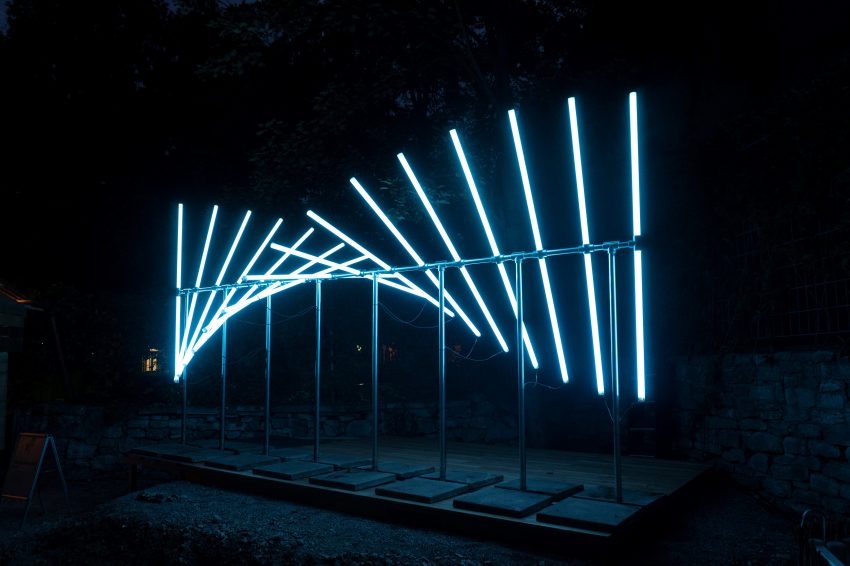 NAVIGATING THE POSTDIGITAL
How Arts & Sciences Shape Our Future
Where do you want to go? Enter starting point. Enter destination. Get direction.
A simple equation! But what if we realize that there is no clear answer, and the parameters themselves prove to be vague? Where do we actually stand? Where can we possibly go?
The exhibition NAVIGATING THE POSTDIGITAL shows immersive art installations at the interface of virtuality and reality, the digital and the analog, as well as man, nature and machine.
We see VR experiences that illuminate the hidden natural forces surrounding us, and let us look beyond our daily experience or pose the question of how we can construct a garden from the "nature" of post-digital reality. We learn more about the current status quo of artificial intelligence, the importance of microbial diversity in socio-political contexts and explore the laws of a universe in which time and space have been reversed.
Each artwork in its own way questions social, individual, biological or technological mechanisms and relates them to our very position in this world.
FOR EXHIBITION TOUR SCROLL DOWN
__________________________________________________________________________
__________________________________________________________________________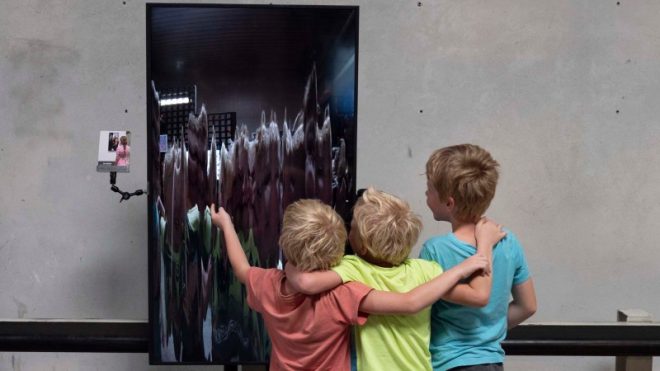 Martin Reinhart & Virgil Widrich
tx mirror
Interactive Installation
Vienna, 2018
https://www.widrichfilm.com/
http://www.tx-transform.com
Martin Reinhart is an Austrian film historian, filmmaker and film technician. He studied at the University of Applied Arts, Vienna, and is the co-founder of the company Indiecam, a pioneer of digital film that developed the CinemaDNG standard together with Adobe. His innovative works and films have been presented at numerous international exhibitions and festivals, including the "tx-transform" film technology developed by him.
Virgil Widrich is an Austrian screenwriter, film director, multimedia artist and professor for Art & Science at the University of Applied Arts Vienna. His first feature film is Heller als der Mond (2000), his short film Copy Shop won 38 international awards and was nominated for the Oscar. Fast Film was premiered in Cannes in 2003 and has won 36 film awards so far. His most recent feature film is Die Nacht der 1000 Stunden (2016). His first music video Nena & Dave Stewart: Be my Rebel appeared in 2018. In total, his works have been awarded over 150 international prizes.
//
The installation tx-mirror was created for the exhibition "Art in Motion. 100 masterpieces with and through media" at ZKM | Center for Art and Media Karlsruhe and is a further development of the film technology "tx-transform" invented by Martin Reinhart in 1992. As in earlier works by the duo Martin Reinhart and Virgil Widrich, the familiar perception is questioned and expanded through intuitive interaction. In a magical mirror one can look at oneself and explore the laws of a universe in which time and space have been reversed. The installation also pays homage to the Polish video artist Zbigniew Rybczynski, whose film The Fourth Dimension has inspired an entire generation of artists.
Concept: Martin Reinhart, Virgil Widrich
Programming: Matthias Strohmaier
Sound design of the film documentation: Siegfried Friedrich
Thanks to Peter Weibel and Leo Coster
Produced on behalf of ZKM | Center for Art and Media Karlsruhe
Distribution: LEMONADE FILMS

Martin Reinhart & Virgil Widrich
tx transform 360°
360° Short Film
Vienna, 2018
https://www.widrichfilm.com/
http://www.tx-transform.com
What happens in a cinema when you film it at a resolution of 10K with a 360° camera and then reverse the spatial and temporal axes? In a way never before shown, tx-reverse shows the collision of reality and cinema and draws its viewers into a vortex in which the familiar order of space and time is suspended.
It is not surprising that cinema-in-the-cinema scenes are often used in horror films. For they irritate and unsettle by reminding us – the immobile viewers hidden in the cosy darkness – of our own questionable position.
Back in the 1990s, Martin Reinhart invented a film technique called "tx-transform", which exchanges time (t) and space axis (x) in the film. Normally, each individual film frame represents the entire space, but only a brief moment of time (1/24 second). In the case of tx-transformed films, however, the opposite is true: each film frame shows the entire time, but only a tiny part of the space – in cuts along the horizontal spatial axis, the left part of the image thus becomes the 'before', the right part turns into the 'after'.
Twenty years after Martin Reinhart and Virgil Widrich used this film technique for the first time in a short film (tx-transform, 1998), they again deal with the question of which a previously unseen world arises when space and time are interchanged, aptly in a cinema and at full 360°: At the Babylon Kino in Berlin they filmed with the OmniCam-360 about 135 actors and calculated the installation tx-reverse 360° for the ZKM from this material.
__________________________________________________________________________
Lucie Strecker
Brain's Shit for Shit Brains
Hybrid Art
Vienna, 2019
Lucie Strecker, artist and performer, explores the intersection of biomedia and performance art, leading the Elise-Richter-PEEK Project "The Performative Biofact", 2015- 2018 in collaboration with Klaus Spiess, Medical University Vienna. Their internationally exhibited and performed experimental setups address a specifically post-anthropocentric notion of performativity — one that includes material and discursive, affective and scientific, human and nonhuman elements.  Currently Lucie Strecker is publishing together with Jens Hauser at Routledge a special issue of Performance Research to scrutinize the epistemological and aesthetic notion of the term 'Microperformativity, questioning how the agency of genes or cell fragments, proteins or enzymes, bacteria and fungi relate to macroscopic dynamics of power and how performance art and discourse can inform these processes. Since 2019 she is teaching experience Design at the Faculty for Design and Art at the Free University of Bozen-Bolzano.
//
Brain's Shit for Shit Brains speculates on the importance of microbial diversity in socio-political contexts. Not only have biobanks recently started advertising the shit of Celebreties, but pharmacological and medical research is also investigating the importance of microorganisms in the stool and their influence on mental and cognitive functions via the so-called microbiota-gut-brain axis. In 2018, Lucie Strecker and Klaus Spiess, head of the Art&Science programme at the Medical University of Vienna, developed an artistic-probiotic suppository. In a new context and in a changed substance, this suppository now becomes the main prize of a shooting gallery whose target shows a coordinate system of social positions according to Pierre Bourdieu. Lucie Strecker harvested microbes from people from different socio-political spaces and conserved them as a 'pharmacon'. This is ambivalent in its effect between poison and remedy. As magic and power, it could – simultaneously or consecutively – be beneficial and malignant. "The pharmacon would be a substance, with everything that this word will be able to connotate, namely the substance suitable for occult powers, the cryptically closed depth that does not reveal its ambivalence to the analysis and already prepares the space of alchemy, if we should not […] come to recognize it as an anti-substance par excellence: as that which resists any philosopher, which goes beyond it endlessly as non-identity, non-being, non- substance […]" (Derrida, Jaques: Plato's Pharmacy, in: Dissemination, 78) The performance artist and writer Katherina Zakravsky wrote a text for Lucie Strecker's shooting gallery as game instruction and part of the work.
__________________________________________________________________________

Margarete Jahrmann & Stefan Glasauer
I WANT TO SEE HAPPY MONKEYS
Multimedia Installation, Deep Dream Network, Artificial Intelligence and Face Recognition
Vienna, 2019
Margarete Jahrmann is an artist, professor for Game Design at the ZHDK Zurich and "Artistic Research" at the University of Applied Arts, Vienna. She is one of the pioneers of Game Art with a presence in international exhibition venues such as ZKM Karlsruhe, Ars Electronica, transmediale Berlin, Arco Madrid, Laboral Gijon, as well as at international conferences. As an art-based experiment she founded the research society "Ludic-Society", focused on performance and urban interventions through play. She curates "Ludic-Method soirèes" and leads an artistic research project on brain computer interfaces, neurosciences, philosophy and art, Neuromatic Game Art.
Stefan Glasauer is Full Professor and Chair of Computational Neuroscience at Brandenburg University of Technology in Cottbus-Senftenberg. He studied electrical engineering at TU Munich and was a PhD fellow at the MPI for Behavioural Physiology in Seewiesen. In 1992 he received his PhD (Dr.-Ing.) from TUM and in 2005 he habilitated in Experimental Neurology and Clinical Neurophysiology. Until 2018 he was Apl-Professor at the Department of Neurology at LMU Munich, and Deputy Executive Director of the German Centre for Vertigo and Ocolumotor Disorders, LMU.
//
In the installation I WANT TO SEE HAPPY MONKEYS Margarete Jahrmann & Stefan Glasauer use very actual elements of artificial intelligence: a standard face detection algorithm finds faces (or what seem to be faces to it) in images taken by a webcam and a pre-trained deep learning network. The well-known AlexNet, classifies the detected and recorded images into categories. This artificial neural network with 23 layers of processing has been trained on 1.3 million images from 1000 different categories, from objects to animals. A deep dreaming algorithm in the background iteratively modifies detected and recorded faces so that they are successively classified as various species of monkeys or apes. The results are displayed from time to time as memories from the past — memories of the AI software of the installation – they transform each face into a face of a "monkey".
The stronger the emotions of the "test subjects" become in front of the eye of the AI, the deeper the dream image of the system becomes. In the memory of the Deep Dream network, only "false" memories remain in its layers of projections of a thousand-dimensional vector space. Visitors interacting with the installation become test subjects playing along. The dreaming artificial art memorizes all players as feeling monkeys – [DEEP DREAM MEMORY: SAD GORILLA] – but the goal of seeing only happy monkeys fails. The classification statements associated with the recalculated images become increasingly absurd. A concrete deep dream poetry of surveillance and the consequences of social actions assigned to it emerges: ANGRY MACAQUE! CRITICAL SQUIRREL MONKEY!
In a concluding performance with Thomas Wagensommerer, the game with artificial intelligence becomes a performance of resistance. Emotions, facial expressions and listening to and interacting with the running software are acoustically rewarded and enhanced – up to a crescendo in which memories and target objects sink into the mist of machine memory…. In a tribute session to our friends in Hong Kong and Chile the final conclusion is: I RESIST DEEP DREAMS!
//
Sonification Performance of the installation  I WANT TO SEE HAPPY MONKEYS, 2pm at AIL Vienna, 17. Jan 2020
 //
Thomas Wagensommerer Studied Digital Media-technology at the University of Applied Sciences St. Pölten, Philosophy at the University of Vienna, and Transdiciplinary Art (TransArts) at the University of Applied Arts, Vienna. He exhibited at ZKM Karlsruhe, Ars Electronica Linz, Donaufestival Krems, MAK Wien, etc. and developed f.ex. the with M. Jahrmann the Neuroflow Game, presented at AMAZE Playful Media Festival Berlin 2018.
__________________________________________________________________________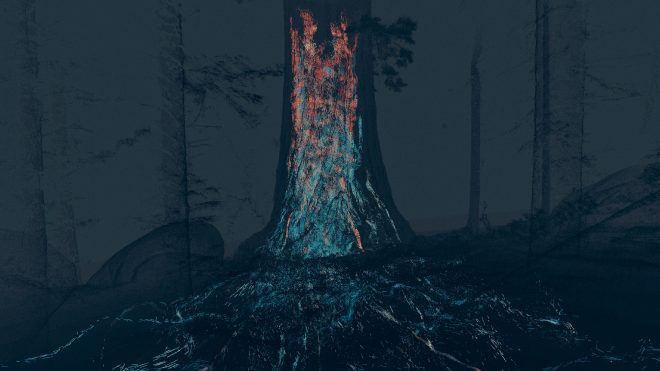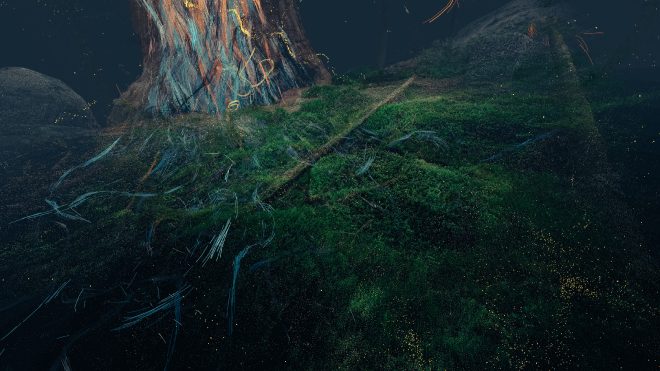 Marshmallow Laser Feast
Treehugger. Wawona

Virtual Reality Experience
London, 2017 (Vienna Premiere)
https://www.marshmallowlaserfeast.com/
Marshmallow Laser Feast is one of the world's leading immersive art collectives. Their work illuminates the hidden natural forces that surround us, inviting participants to navigate with a sensory perception beyond their daily experience. In these spaces, the known physical world is removed to reveal networks, processes and systems that are at once sublime, underpinned by research, and fundamental to life on Earth.
Fusing architectural tools, contemporary imaging techniques and performance with tactile forms, they sculpt spaces that lay dormant until animated by playful investigation.
//
The Virtual Reality Installation Treehugger: Wawona reveals the secret life of the giant sequoia and never-before-seen inner workings of the world's largest tree. Treehugger uniquely illustrates the sequoia's immense scale and questions our relationship with the natural world at a time of crisis and change.
The project makes visible the powerful inner systems of a sequoia tree by visualizing the circulation of water from its deep roots, through its gigantic trunk, to its leaves. The user is immersed in a hypnotic flow of water and energy, while his/her perception of time is altered, in relation to the temporality of a 3000-year-old sequoia tree.
__________________________________________________________________________
Depart
The Entropy Gardens (Vienna Premiere)

Virtual Reality Experience
Vienna, 2019 (Vienna Premiere)
commissioned by sound:frame, funded by the Vienna Business Agency & BKA (Pixel, Bytes & Film), supported by Concept Solutions
The Austrian duo Depart was founded in 1999 by Leonhard Lass and Gregor Ladenhauf. Deeply rooted in the digital, their approach to multimedia creates unique moments characterized by a formally rigorous and profound aesthetic. A combination of precision and emotion leads to a multifaceted and abstract whole, which reflects fragments of the audience's own experience. Depart's works are sometimes mysterious, often deliberately dark and dazzling, containing a highly concentrated mixture of virtual mechanics, poetic moments and hermetic symbolism. They move between text, image and sound and span from interactive installations and net-based applications to expansive performances and A/V live shows.
//
The Entropy Gardens is an artistic Virtual Reality Experience that explores the question: What is the 'nature' of the post-digital reality and how can we construct a garden from it?
Drawing on humanity's maybe most archetypical art (garden-making), it challenges its myths, aesthetics and modes of perception. In the form of an open-ended simulation it constructs a hermetic, virtual garden as a poetic ecosystem — a psychic landscape that is foremost a complex audiovisual experience. It leads the visitor into a place that is equally challenging and contemplative (and of course profoundly weird).
The garden, like a poem, is a a tool for the exploration and discovery of psychic landscape. Often the garden affronts us and discovery is met with fear.
…           
The garden invites us to leave ourselves at the entrance gate and to be directed by the garden, as the wild landscape dictates its terms. By achieving our trust, the garden coaxes us to discover confrontational places.

Sophie Walker, in "The Japanese Garden", p11
__________________________________________________________________________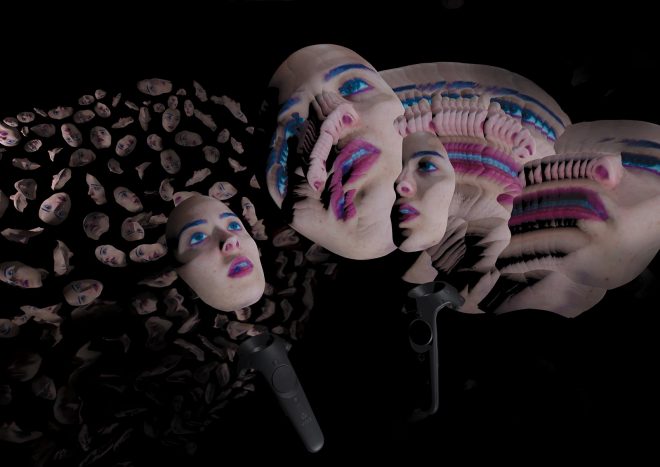 Martina Menegon
all around me are familiar faces
Virtual Reality Experience
Vienna, 2018
Martina Menegon (Italy, 1988) is an artist working with Interactive and Mixed Reality Art to create intimate and complex assemblages of physical and virtual elements, which explore the contemporary self and its synthetic corporeality. She is a lecturer and assistant at the department of Transmedial Art at the University of Applied Arts in Vienna and regularly collaborates with Klaus Obermaier and Stefano D'Alessio, teaching multimedia tools for interactive arts at the IUAV University in Venice and creating interactive performances and installations. Since 2019 she is directing the /afk:, curating Mixed Reality Art Exhibitions in Vienna. She currently lives and works in Vienna, Austria.
//
all around me are familiar faces is a Virtual Reality Experience that immerses the user in a dimly lit environment, filled with clones of the artist's 3D scanned face. Around the centre, new faces pop-up randomly, accompanied by eerie drones as well as by breathing and crackling sounds, while others float on a watery dark floor. During the experience, the user can freely move and look around but is constantly 'watched' and followed by a cloud of faces that continuously obstruct the view. Similar faces are attached to each of the virtual controllers. By pressing the trigger button and moving the controllers, the user can clone the faces and is able to create three-dimensional sculptures with them. The pressure strength used on the trigger button determines the scale of the clones: stronger pressure results in bigger faces. Every time a user takes the HMD off, the virtual sculptures created disappear, cleaning the space for a new experience.
In all around me are familiar faces the artist's face exists simultaneously as a virtual self-portrait and as a tool for creation. The artist's identity multiplies and vanishes, becoming a virtual three-dimensional brush for everyone else to use and reinvent.
Martina Menegon
familiar strangers
Face Filter | Video Installation
Vienna, 2018-2019
How does it feel to wear someone else's face? Does it make you act differently? Do you still feel yourself?
familiar stranger (2018) is a face filter available for instagram, facebook, snapchat and snap camera. When faces are detected, a virtual mask substitutes the user(s) face, following the head movements and rotation, but hiding facial expressions. The mask is a 3D scanned self portrait of the artist, that user(s) are free to wear, experience and share.
The video familiar strangers (2019) is an ongoing video-collection of users wearing the face filter and freely acting on it. The work investigates the concept of avatar as mask, of identity in a social media context and, even if face recognition is not the latest trend, of surveillance in today's society. All these users act differently and are different from each other, yet through the virtual face mask, they become similar: familiar strangers.
credits:
familiar strangers was created with the participation of: Silvia Napolitano, Eric Souther, Dooley Murphy, Ullrike Kreu, Yvana Samandova, Riccardo Muffato, Agnes Varnai, Matteo Corbetta, Flaminia Cavallari, Carlotta Cavallari, Luisiana Di Filippo, Flavia Maffei, Emanuela Casali, Eleonora Pisano, Beatrice Pisano, Rachele Pisano, Elisabeth Aurora Kihlstrom, Franziska Von Guten, Cesare Gori, Stefano D'Alessio, Gabriel Roland, Martina Schöggl, Mariya Vasilyeva, Charlie Allen, Elena Richtsfeld, Luana Martignon, Ilaria Coletti, Erica Lapadat Janzen, Ana Loureiro, Gabriella Chihan Stanley, Alexander Martinz, Raphael Haider, Julia Fischerin, Sarah Röth, Yvana Samandova, Systaime / Michael Borras, Dori Alba Granzotto, Gretta Louw, Anna Schwarz, Saleh Rozati, Beatrice Boschiero, Jakob Sigl, Danny Rhymes, Matteo Visentin, Felix Helmut Wagner, Dalia Merotto, Tina Sauerländer
__________________________________________________________________________
Paracetamol
Deoxyribonucleic acid – DNA
light installation
Vienna, 2018
Paracetamol was formed in 2017 by Jürgen Haghofer, Michael Guggenbichler and Johannes Traun, with the aim of dealing with the interplay of states of being and technology, the collective creates spaces and emotions.
//
Deoxyribonucleic acid – DNA is a light sculpture that reflects aspects of evolution. Through movement, the observer experiences a state of simultaneity between the static constant and a constantly changing state. An interplay of forms emerges, light plays with movement.
__________________________________________________________________________
Team:
Lead: Eva Fischer
Research: Stefanie Schmitt
Consultant: Alexandra Graupner
Production: Eva Weber, Elisabeth Falkensteiner, Carina Lindmeier, Angie Pohl, Ella Guggenbichler, Antonia Pytel
Fotos: Claudio Farkasch / belichten.com
Thanks to:
Concept Solutions
Jürgen Weishäupl
Heinz Wolf
101 – Coding & Design
Diagonale – Festival des österreichischen Films
funded by: Referat für Wissenschafts- und Forschungsförderung, MA 7 | Kulturabteilung der Stadt Wien