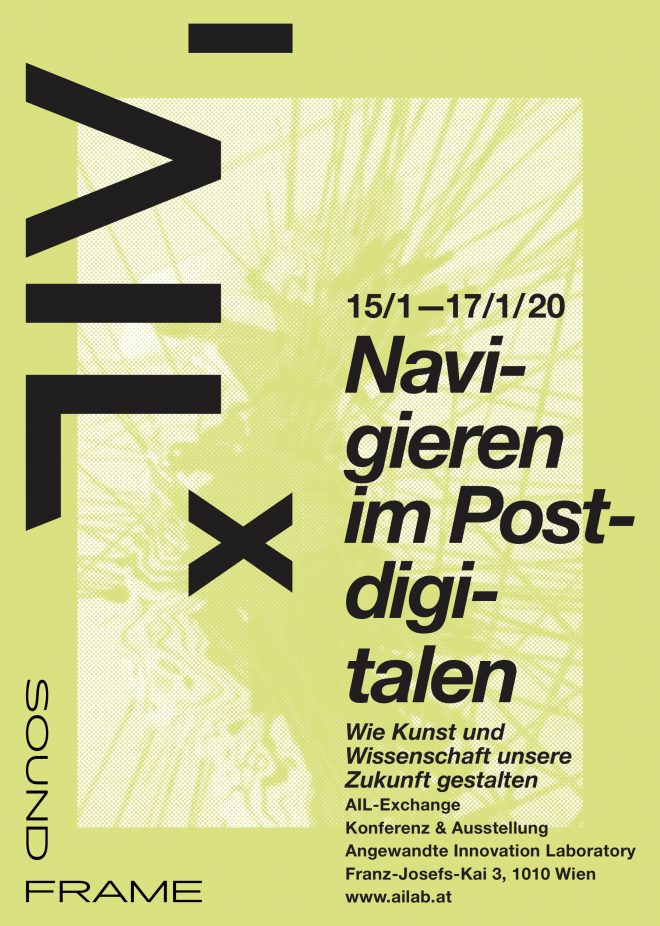 Artistic Research Konferenz
Duos aus Kunst und Wissenschaft
diskutieren über
postdigitale Tendenzen,
Machine Learning, Hybrid Art,
das Wood Wide Web und mögliche
Navigationsstrategien.
Konferenz: 16.01.20, 10–20:00
Ausstellung: 15.01, 10–20:00, 17.01., 12-17:00
Führung & Performance: 17.01.20, 13:30–15:00
ANGEWANDTE INNOVATION LABORATORY
Franz-Josefs-Kai 3
1010 Wien, Österreich
Anmeldung via info@soundframe.at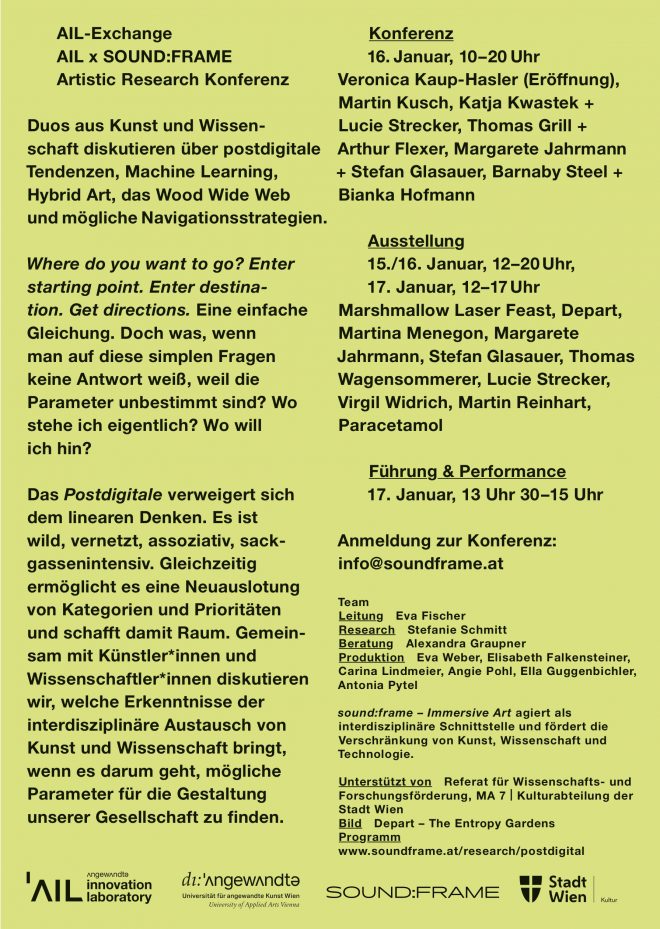 Navigating the Postdigital
Where do you want to go? Enter starting point. Enter destination. Get directions.
Eine einfache Gleichung. Doch was, wenn man auf diese simplen Fragen keine Antwort weiß, weil die Parameter unbestimmt sind? Wo stehe ich eigentlich? Wo will ich hin?
Das Postdigitale verweigert sich dem linearen Denken. Es ist wild, vernetzt, assoziativ, sackgassenintensiv. Gleichzeitig ermöglicht es eine Neuauslotung von Kategorien und Prioritäten und schafft damit Raum. Gemeinsam mit Künstler*innen und Wissenschaftler*innen diskutieren wir, welche Erkenntnisse der interdisziplinäre Austausch von Kunst und Wissenschaft bringt, wenn es darum geht, mögliche Parameter für die Gestaltung unserer Gesellschaft zu finden.
Konferenz
16.01.2020, 10:00–20:00
10:00 | Einlass, get together
11:00 | Begrüßung
Kulturstadträtin Veronica Kaup-Hasler
11:10 | Intro Keynotes (Deutsch)
Eva Fischer (sound:frame)
Martin Kusch (dieAngewandte)
Stefanie Schmitt (Universität Wien)
12:00 | Dialog (Deutsch)
"Postdigitale Kondition, Environmental Humanities und Hybrid Art"
Katja Kwastek (Professor of Modern and Contemporary Art | Vrije Universiteit Amsterdam)
+
Lucie Strecker (Artist and Researcher, Hybrid Art | Art & Science, dieAngewandte Vienna)
13:30 | Mittagspause
14:30 | Dialogue (English) !! CHANGED TIMESLOT !!
"How can art illuminate the hidden natural forces that surround us? And how can science contribute to and benifit from a collaboration with art?"
Barnaby Steel (Immersive Artist | Marshmallow Laser Feast London)
+
Bianka Hofmann (Science Communication, Project Development & Creative Production | Fraunhofer MEVIS Bremen)
16:00 | Pause
16:15 | Dialog (Deutsch)
"Ludic Art & Neurowissenschaften"
Margarete Jahrmann (Artist | Ludic-Society, Game Design ZHDK Zurich, Artistic Research dieAngewandte Vienna)
+
Stefan Glasauer (Computational Neuroscientist | BTU Cottbus, Bernstein Center Munich)
17:45 | Pause
18:00 | Dialog (Deutsch) !! GEÄNDERTER TIMESLOT !!
"Sound Art and Curating – Machine Learning and Limits of Control"
Thomas Grill (Sound Artist & Researcher, Machine Learning, "Rotting sounds" funded by Austrian Science Fund (FWF), project AR445-G24 | ELAK)
+
Arthur Flexer (OFAI, Intelligent Music Processing and Machine Learning Group)
19:45 | get together
Ausstellung
15.01 – 17.01.20, 10–20:00
Marshmallow Laser Feast – Treehugger. Wawona
marshmallowlaserfeast.com
Depart – The Entropy Gardens
depart.at
Martina Menegon – all around me are familiar faces / familiar strangers
martinamenegon.com
Margarete Jahrmann, Stefan Glasauer, Thomas Wagensommerer – I WANT TO SEE MONKEYS
margaretejahrmann.net / wagensommerer.at
Virgil Widrich, Martin Reinhart – tx mirror / tx transform 360°
widrichfilm.com / tx-transform.com
Lucie Strecker – Brain's Shit for Shit Brains
luciestrecker.com
Paracetamol – Deoxyribonucleic acid
Litto – Das Vorspiel
litto.work / artivive.com/
Führung und Performance
17.01.20, 13:30 – 15:00
Gemeinsam mit einigen der Künstler*innen führen wir durch die Ausstellung.
Team
Leitung: Eva Fischer (sound:frame)
Research: Stefanie Schmitt (Universität Wien)
Beratung: Alexandra Graupner (AIL)
Produktion: Eva Weber (AIL), Elisabeth Falkensteiner (AIL), Carina Lindmeier (sound:frame), Angie Pohl (sound:frame), Ella Guggenbichler (sound:frame), Antonia Pytel (sound:frame)
Fotos: Claudio Farkasch / belichten.com
Thanks to: Concept Solutions, Jürgen Weishäupl, Heinz Wolf, 101 – Coding & Design, Diagonale – Festival des österreichischen Films
sound:frame – Immersive Art agiert als interdisziplinäre Schnittstelle und fördert die Verschränkung von Kunst, Wissenschaft und Technologie.
Eine Kooperation von sound:frame & AIL
Gefördert durch das Referat für Wissenschafts- und Forschungsförderung, MA 7 | Kulturabteilung der Stadt Wien